Tweets from Heaven is a series of devotionals found predominantly on Instagram. The goal for this commission was to evoke a simple and fun style while keeping the branding simple and relatable. Including speech bubble iconography was intended to hint at the conversational nature of the group while the crown reference the a scripture calling the audience a "royal priesthood".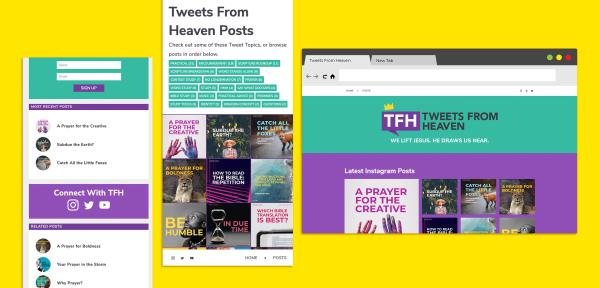 When designing the website, we wanted to carry over the fun and vibrant colors and make the layout a bit reminiscent of the social media platform Instagram. This would both harken to the primary location of the devotionals but also be familiar to many visitors. The blog section we build allows visitors to not only view the devotionals as slides, but as written articles, making them sharable even to those who do not use social media.
Overall the branding is designed to show the series as approachable and fun while allowing it to be enjoyed by a wider audience.